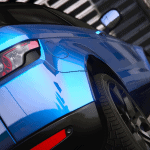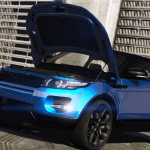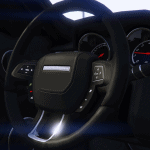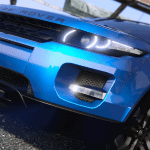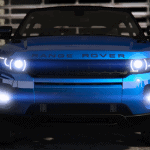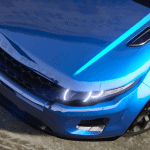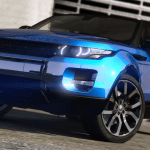 Range Rover Evoque 8.0
---
All ultra detailed instructions to install is in archive.
-For Add-on
-For replace
Features
-HQ engine
-HQ interior
-HQ exterior
-Working dials
-HQ mirror reflexion
-Template for custom skin
-Lot of details
-Tuning parts
-HQ textures and bumpmap
TUNING
-3 front bumpers
-5 rear bumpers
-1 big exhaust kit
-1 skirt
-1 roof spoiler
TEMPLATE
By default the car is stock livery (no skin), don't touch anything if you don't want skin. I you want make custom skin and apply to the car, read template instruction in texte file.
CHANGELOG:
-8.0
-REWORK ALL THE MODEL
-Full new HQ interior
-New HQ textures
-Fit a HQ 3D engine
-Add a hoodliner
-Replace wheel by better one
-New tires
-Rework lights textures
-Add glass on fog lights
-Add working fog lights
-New dials
-Add radio
-Add detail on trunk
-Add door sills
-New grid
-Add radiator under grid
-New underbody
-New interior surface of front and rear bumper
-New logos & badges
-New calipers
-New brake disks
-Delete the bugged tuning bonnet
-Improve DLC files
-Add tuning parts names and car name
-Some other 3D and textures improvements…
-7.0
-Add 12 tuning parts – Thanks to Kizacudo for help 😀
-New windows
-Minor texture fix
-6.0
-TOTALLY NEW INTERIOR Old one replace by the real Evoque interior (seats, doors, roof, hood, dash….)
-New motor – Now there is a 3D motor, not just a photo.
-Fixed littles bugs.
-5.0
-Totally change all lights (indicator, tail lights, head lights, brake lights), by REAL lights.
-Add more realism for light by adding chrome under lights (reflector).
-Add PERECT reflexion on each mirror.
-4.1
-Fix the bug with add-on version.
-4.0
-Add-on version: huge thank to matteo9010 for the add-on version !!
-3.0
-Added complete template for the car, you can now make custom skin.
-Added Dirt, Dust, Scratch map, the car can be totally dirt.
-Added Dirt map for windows.
-Better interior quality.
-Fix light glass, front and back.
-New texture for glass, perfect reflexion and HD break texture.
-Fix all lights / all lights textures work when light are activate.
-New texture for all lights.
-Working middle break light.
-Working indicators.
-Player now sit correctly and grab the steering wheel.
-Added Bumpmap textures for all parts of the car.
-Added Specmap textures for all parts of the car.
-Custom interior color by changing Paint2.
-Better reflexion on all mirrors.
-2.0:
-Added full Range Rover interior in good quality, interior from zQrba's Range Rover Supercharged, five seats, and hd texture.
-Fix colisions for ALL doors and add animation when you open each door (you don't pass trought when open.
-The glass are breackable.
-Added glass above headlights and taillights.
-Added working dash.
-Perfection position of player in car.
-Working streeringwheel with hands on it.
-2k new texture for the motor.
-2k new texture for doors.
-Reflective mirrors.
-Change the license plate to the game license plate.
-Fix doors handles when go inside the car.
-Added doors lights at the botom.
-Change middle mirror inside the car.
-Modify chassis colision to improve scratch, damage and bullet hole on it.
-Breackable headlights and taillights.