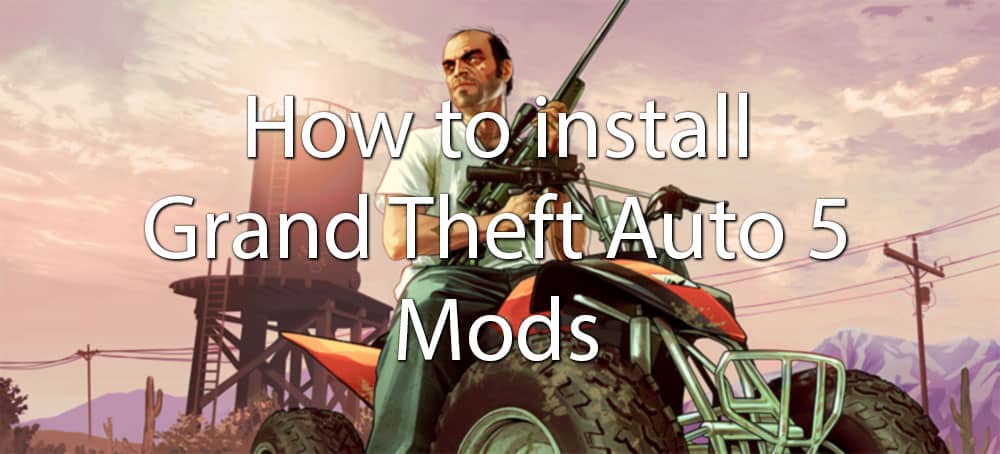 How to install GTA 5 Mods
---
Let's take a look at 9 steps on How to install Grand Theft Auto 5 Mods on Consoles and PCs:
Download GTA 5 mod from the GTA 5 Mods site.
Save the mod in a folder. Simple advice: save all your mods in one folder. That would help you to see all your Grand Theft Auto 5 Mods in one place and arrange them simply.
After you saved your mod, extract its features into a new folder.
Pull the pentinent files into the GTA 5 file folder.
That folder will probably look something like that: c:\program files (x86)\Steam\SteamApps\common\Grand Theft Auto 5.
Seek for something like GTAV.exe and bink2w64.dill, if you see them, you are doing everything right.
For the FOV mod, you need to pull fov.ini and dsound.dll into Grand Theft Auto 5 folder.
The next thing to do is to adapt the variables in fov.ini to get precisely the view that you wish in GTA 5.
Boot up Grand Theft Auto 5 and you are ready to play.
Resource replacement mods (peds, vehicles, maps)
---
If you download a mod that replaces an original resource, like a vehicle mod that replaces a default vehicle, you'll need to use OpenIV. The mod you download should have come with instructions with which file to replace in which exact folder and archive. FOLLOW THOSE INSTRUCTIONS.
Resource add-on mods (peds, vehicles, maps)
---
If you download a mod that's marked as an add-on, it means it doesn't replace existing resources. They are added as DLCs. In general they follow the following set-up:
The data files are placed in GTAV_root/mods/update/x64/dlcpacks/<mod name>/dlc.rpf
The entry is added to dlclist.xml. The exact location is GTAV_root/mods/update/update.rpf/common/data/dlclist.xml. This entry looks like <Item>dlcpacks:\<mod name>\</Item>
When adding an entry to dlclist.xml, take care to keep the opening and closing tags being exactly Item. If they are different, the file is invalidated.
Some mod authors also tell you to change extratitleupdatedata.meta, but this is NOT necessary!
Additionally, you'll want to replace GTAV_root/mods/update/update.rpf/common/data/gameconfig.xml with a version that supports more add-on mods. These can be obtained on GTA5modhub.com. Just take care to pick the correct game version files.
.oiv files
---
If you download a mod that ends with .oiv, this means the mod author prepared a nice package for you. If you installed OpenIV properly, you can just double click the file, after which an OpenIV pacakge installation prompt will open. Check any information in the description window and press install. These mods can add files and/or replace files, so be sure to double-check if you've got the correct package.
Scripts
---
Scripts allow to add extra functionality to the game in form of extra missions, extra functionality, trainers and much alike. Scripts need to be loaded through their respective library. If you download a script, it will usually say for which library it is made.
Some scripts come with additional configuration files. Extract these files according to the readme of the script.
ScriptHookV: .asi files
Scripts ending with the .asi extension are ScriptHookV scripts and go in the main GTA V folder.
ScriptHookVDotNet: .dll, .cs, .vb
Scripts ending with the .dll, .cs and .vb extensions are usually ScriptHookVDotNet mods and go in the GTAV_root/scripts/ folder.
RAGEPluginHook: .dll
RAGEPluginHook go in the GTAV_root/Plugins/ folder.
---
GTA 5 mods are extremely fun to use and they can help you create your own world according to your likings inside the game. So, how to install GTA 5 mods into the game? There are plenty of instructions describing "how to install GTA 5 mods" on the web and each of them has different approaches. However, thanks to the extremely active community, guides on how to install Grand Theft Auto 5 mods have been published everywhere in simpler forms and even applications have been created to make the process even easier. Normally, you would have to mess around with game files manually and replacing stats. Therefore, the normal process of installing GTA 5 mods can be a little tricky. An example of such an automated program is OpenIV. So, how do you install mods on GTA 5 PC version through the OpenIV application? Once you have got the mods that you need to add to the game downloaded, simply download the free-to-download OpenIV mod installer application. Once you select the installed game's directory from the application, you can go on to change the files and install the mods you desire. The application comes with all the plugins that are necessary to install mods and makes the "how to install Grand Theft Auto 5 mods" process even easier. If you are planning on using OpenIV to install mods to the game in the future, keep an eye out for OIV mod packages that are directly compatible with the application and make the installation a process of just a single click. You can always go back to the traditional method of replacing files manually too, but remember to always back up your original files beforehand. If you still need help on figuring out how to install mods on GTA 5, check out a more elaborated guide that you can find almost anywhere.
---
---
---