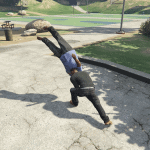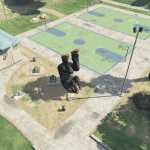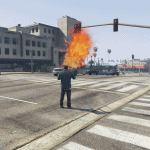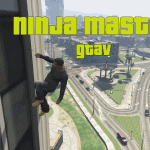 Ninja Master [.NET] 1.0
---
Jump and bounce around the streets of GTAV with your Ninja master skills.
Grab and throw, beat up enemy with deadly ancient-JUDO.
This little script adds some Ninja-skills, so that you can act like Ninja.
Features
Add Ninja super jump and some JUDO skills to the player.
Add three types of Nin-justu, elemental ninja power.
!!Costume of Ninja is not included in this mod!!
Install
Place "NinjaMasterGTA.dll" and "NinjaMasterGTA.ini" to script folder.
Mod requieres ScriptHookVDotNet, newer than v3.
Control
Toggle script enable/disable : Press "Shft" & "Ctr" & "Z" at same time.
Ninja jump : Jump while standing on foot.
Hang on wall : Ninja jump towards the vertical wall. Or the ceiling.
Grab an opponent : Press "T" near a person.
Seoi Throw : Press "T" on ground, while grabbing.
Izuna Throw : Press "T" in the air, while grabbing.
Bullet Throw : Press "Q" in the air , while grabbing.
Use Nin-jutsu : Press "T" with Aim Key when bare hand.
Switch Ninjutsu-Style : Press "T" in weapon select HUD.
(Only shows up when bare hand is selected.)
Action button "T" is configurable in "NinjaMasterGTA.ini".
Uninstall
Delete "NinjaMasterGTA.dll" and "NinjaMasterGTA.ini" from script folder.
Known Problems, Bugs
Nijna Jump does not work in first person camera mode.
Sometimes ninja-jump penetrate the wall. Get stuck in the building.
Misc
This mod is made for playing with keyboard and mouse.
Not sure with controller cause I don't play with it.
You can modify ini while game is running.
Toggle enable/disable to reflesh settings.
If you experience problems such as frozen animations, try disabling the script.
Some other mods may not be compatible with this script.
Sorry when it screwed up your game. This is my first challenge on GTA modding.
Cloning or Remaking mod : Totally OK. You don't need any permission from me.
Have fun guys!!