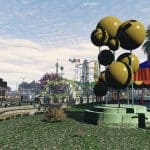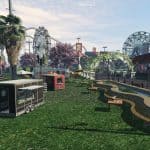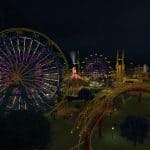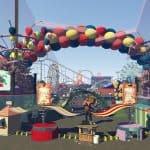 Welcome to ThemeParkV ! 2.0
---
Description:
Welcome to ThemeParkV ! the theme park is filled with rides, rollercoasters, ferris wheels, bumper cars, carousel,
horror house and more ! there is an accessible circus where you will find a show inside, all the fun you can see,
there is a park to sit down and relax, the theme park is placed on an island in the sea ( see the screenshot for location )
you can access the theme park from the parking through the main gate, the theme park is still under process. Have fun theming! 😉
Installation:
1: Drop themepark folder in \Grand Theft Auto V\mods\update\x64\dlcpacks
2: using openiv open your dlclist.xml and add the line : dlcpacks:/themepark/
3: Place themepark.xml and addonptheme.xml in the scripts\AutoloadMaps folder to autoload peds&vehicles and extra props
or either place themepark.xml in \scripts\MapEditor to manually load the peds&vehicles in game
DONE!
Requirements:
1:Custom props addon by Shaezbreizh & Mixtro & Dekurwinator for the extra props
2:Openiv for installation
3:Map editor
And all the good stuff to run this mod smoothly:Scripthookv,Scripthookdotnet,heapadjuster,packfilelimitadjuster…
To do list:
1: Adding more rides or extending the theme park
2: Creating scripts/animations for the rides to work
3: Creating navmeshes for peds to be able to walk and adding more peds to be a busy themepark
4: Adding audio for rides etc . . .
known bugs:
1: Dissappearing props because the themepark is highly modeled and too much memory for the game to handle,
reload the scripthook for them to reappear, and dont load themepark.xml incase your props are dissappearing.
dont forget to adjust heapadjuster and packfilelimitadjuster to maximum.
changelog::
Update 2.0:
1: Moved the themepark to a different location
2: Fixed models,collisions & textures
3: Bug fixes
4: Added props
5: Better Lightning