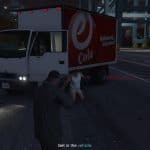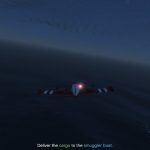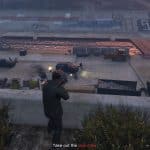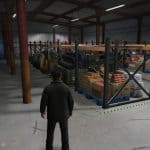 Warehouse Business & Heists 0.8
---
The Heists
With this script you can now purchase a warehouse and perform heists on various vehicles transporting goods and super cars.
Every heist will be completely random, with random vehicles and cargo that's being transported in random locations. You will get different payouts based on the value. You can choose to try and take the driver hostage and steal the cargo, sometimes they will be armed and will fight back (mostly with higher value cargo or people with expensive cars). If you kill the driver, this will result in a 3 star wanted level. If you manage to take him hostage and let him live, this will result in a 2 star wanted level.
Steal the goods, lose the cops and deliver it to the drop off point for a reward.
The Warehouse
With the latest update you now have a fully dynamic warehouse where you store all of your stolen goods. Over time your stock will be sold and transported from your warehouse automatically. You'll keep earning regular income until your warehouse is empty so it's up to you to keep completing heists and keep it stocked up. Each payment will be random but still based on the value of the goods.
Stock is normally sold once or twice a week automatically, you can also choose to sell the stock yourself and deliver it to the buyer from the menu when accessing the laptop.
Be careful not to damage the goods when transporting it to the buyer as you won't get it back! You can deliver the cargo by plane or Mule. By plane involves flying over a smuggler boat, maintaining a low altitude to stay off the radar and dropping the cargo attached to a parachute. If you deliver by Mule there's a random chance of you getting attacked by people trying to steal your cargo.
If you manage to start to fill up your warehouse, some heists will start to become unavailable. There will still be heists that you can complete, just ones that you can't store in your warehouse like fuel tankers and cars.
You will first need to purchase the warehouse, the location is marked on your map (see images). Once you've purchased it, you'll be able to start heists from the laptop, do deliveries or view your stock at any time.
Rival Takedowns
As of version 0.42 there is now a rival crew that will affect the time it takes to sell stock from your warehouse.
From the laptop there is now an option called rival takedowns. Each takedown you complete, you will decrease the time it takes to sell stock from your warehouse automatically. By default you will sell stock once a week, the maximum you can sell stock is 5 days a week.
Takedowns include shooting down rival helicopters, blowing up their boats, destroying their planes and going to their deal locations and taking them out.
Some of the things you could steal are:
Various super cars
Luxury vehicles being transported by Hauler
Cash Stockades
Diamond Stockades
Artwork Stockades
Trailers carrying electrical goods
Trailers carrying clothing
Trailers carrying commercial goods
Mules carrying drugs
Boxvilles carrying weapons
Boxvilles carrying expensive packages
Phantoms transporting fuel tankers
Various vehicles transporting weapons
Trucks transporting consumable items
Installation
Copy CargoHeist.dll and the folder "CargoHeist" to your to your games scripts folder located at Grand Theft Auto v\scripts\.
If you are using an old version of this mod then make sure you remove the old .CS file before installing the latest update.
Approach the blue business marker on your map and press E or right d-pad to enter the warehouse
Requirements
Legit copy of GTA V with the latest updates installed (This mod loads props from the Diamond Casino Update)
NativeUI – The latest version!
ScriptHookV – The latest version!
ScriptHookVDotNet – v3.03!
Multiplayer maps enabled
Note
Please remember to copy the CargoHeist folder and the script to your scripts folder, the script manages all of your heist data inside here!
Version 0.3 contains a few fixes to the spawn locations and a completely new warehouse.
Version 0.31 contains updated spawn points, changed UI text and you will now have to deliver anything you can't store in your warehouse (cars, tankers, yachts) to the cargo ship at the docks.
Version 0.32 contains performance improvements, new sound effects and a new heist complete screen
Version 0.33 contains a fix for the warehouse not loading
Version 0.34 contains bug fixes, a new menu for the laptop and an option to deliver the stock yourself
Version 0.35 contains multiple bug fixes, new blips, updated waypoints and added option to sell the business
Version 0.4 contains bug fixes, a random chance of being attacked when trying to deliver cargo, changes to the delivery system and a new option to deliver the stock by plane to smuggler boats.
Version 0.41 contains stability improvements, tweaks to the plane delivery method, new sound effects, a feature where you will have to keep below a certain altitude when delivering packages by plane, I've also removed the yacht heist.
Version 0.42 contains bug fixes and rival crew takedowns.
Version 0.43 contains updates to rival takedowns and spawn positions.
Version 0.44 contains bug fixes,a new heist and a random chance of an extra guard being in the vehicle with high value goods
Version 0.45 contains fixes to spawn locations
Version 0.46 decreases the payout
Version 0.5 contains bug fixes and a random chance of some vehicles being escorted by cops
Version 0.6 contains fixes to the way the interior is loaded
Version 0.7 & 0.71 contain bug fixes.
Version 0.8 contains bug fixes and performance improvements.
Issues
If anyone's having problems can you please make sure:
*You're running a legit Steam copy of the game with the latest updates installed.
*You have ScriptHookV & ScriptHookV.NET installed with the latest updates.
(I've only tested it on ScriptHookV.NET V3.03)
*You have NativeUI installed with the latest updates.
*You have multiplayer maps enabled or something that will load the warehouse interior.
If you still have any problems then please send me your ScriptHookV.NET log and I'll take a look in to it and try my best to solve it