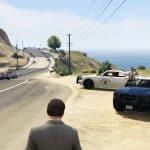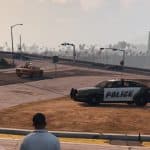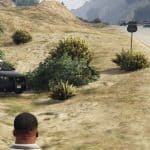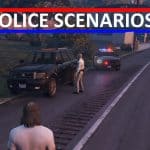 Police Scenarios
---
This mod adds more vehicle scenarios for police in their proper jurisdictions. There is a small chance they will spawn at any time of day and will keep spawning even if you have a wanted level. I will be adding more spawn locations and traffic stop scenarios all over San Andreas. For the sake of realism, some areas will have a higher police presence (airport, gang territory, and even small towns) and other areas may have very little to no cops at all. This mod does not rely on a plugin and instead uses the game's scripting.
Not required but highly recommended: Add highway patrol vehicles to "POLICE_BIKE" in mods/update/update.rpf/common/data/ai/vehiclemodelsets.meta
For an even better experience, use Daimian's new PullMeOver mod to make the police react to traffic violations.
Radar Detector
Installation:
Follow the folder paths – there are two different folders named scenario that go to different locations
Bugs:
May conflict with other scenario files/scripts
The police officers conducting traffic stops do not get back in their vehicle. (still trying to figure this out)
Future Plans:
Increased police activity around LSIA
Sheriff units in Davis and Rancho (Like LASD in Compton)
Park Rangers monitoring hunting areas
NOOSE/FIB around the IAA and FIB buildings
This mod will be discontinued following the release of Realism Dispatch Enhanced 4.0.
Changelog:
1.2 – Blaine County Drug Runners Update = No one sneaks contraband past the watchful eye of the San Andreas Highway Patrol. A crazy amount of vehicles are being searched and seized in the vicinity of Braddock Tunnel. Take a trip east of Mount Chiliad to see for yourself. This update includes a fix for stables.ymt, so this and braddocktunnel.ymt need to be replaced. Use the x64a.rpf path for both.
1.03 – Diamond Casino Security = Added more scenarios around the casino and near the freeway. There are also a lot more in the area around Martin Madrazo's ranch. Racecourse.ymt and stables.ymt are the only two updated files for replacement if you had already installed this mod. These both go into the x64a.rpf path, and only racecourse.ymt goes to the update.rpf path.
1.02 – Renamed mod to Police Scenarios. Added a major police presence in Chamberlain Hills and several radar spots around Chumash Hills where traffic moves quicker. If you had the previous version installed, you only have to add chamberlainhills.ymt and chumashhills.ymt to the x64a.rpf path.
1.01 – Chumash Speed Enforcement Update = Added a couple scenarios along Great Ocean Highway in Chumash including an experimental traffic stop scenario. If you had version 1 installed, simply add chumash.ymt to the x64a.rpf path.