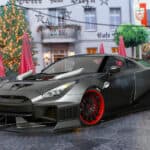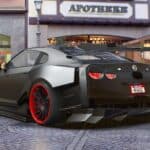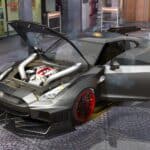 Nissan Skyline R35 Widebody Legend Edition
---
The Nissan Skyline R35 Widebody Legend Edition is a stunning car that attracts attention with its unique appearance. The wide body of this model gives it a more aggressive and sporty look.
The front of the car has large air intakes and a redesigned radiator grille, giving it a more dynamic appearance. Acute LED headlights highlight the modern design of this car.
The rear of the car attracts attention with its striking spoiler, diffuser and two large exhaust pipes. They not only give this car an elegant look, but also improve its aerodynamics.