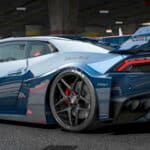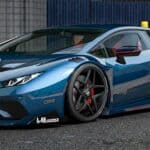 Lamborghini Huracan Liberty Walk Silhouette
---
Unique Liberty Walk body kit: This is the main feature of this model – wide arches, bumpers, spoilers and diffusers make it unique and aggressive.
Aerodynamics: Every element of the Liberty Walk Silhouette is designed with aerodynamics in mind for maximum traction and stability at high speeds.
Larger Vents: Larger vents on the hood and side panels help keep the powerful engine and brake systems cool.
Sophisticated Aerodynamic Spoiler: The tall spoiler at the rear of the car enhances aerodynamic efficiency and adds a sporty touch to its overall appearance.