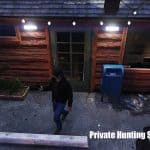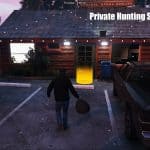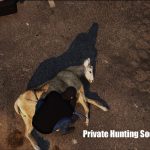 Private Hunting Society v1.3
---
Requirements
-GTA V v1.0.877.1 to 1.0.1290.1 or higher (Probably old versions will work too);
-Latest ScriptHookV;
-ScriptHookVDotNet3 or higher;
-NAudio.dll(Included in archive);
Description
This mod adds some more extra hunting features. Now you can butcher and sell wild animals remains to Private Hunting Society as trophies and get well paid for this depending on animal species. The rare black panther or cormorant are the most valuable trophies.
How to install
-Drop HuntingTrophies folder and all Files in your "GTAV/Scripts/" folder!
Controls
When you stand near a dead wild animal body (coyote, deer/elk, mountain lion/panther, boar, cormorant, rabbit) the hint with required button should pop up in the left top corner. Once you hit it, the character will start to butcher the animal's corps. Once you have remains in your hand, you can get them in your car by getting to the driver's door and pressing "Context button" (hint will show up) and then go and get another trophy or go to Private Hunting Society location (bliped on the map) to sell your trophies there. Also, you can go to Private Hunting Society without any trophies in your hands. Doing so will give you a price list and allowed animals for sale. You can store as many trophies in your car as you like until game session is ended, but be careful, if cops will see you carry dead animals, they will start to chase you! If you store your trophies in your car, then you need to take them out before you go on a selling spot. Just come to drivers door and hit "Context" button again (the hint will also show up).
Changes:
1.1
– Added prices config in HuntingTrophies.ini file;
– Added blood decals on character's clothes after skinning trophy;
– Added blood trails from trophy bag;
– Added characters speech when starting skinning trophy;
– Added help text above your current hunting vehicle that represents how many trophies are stored in there;
1.2
– "Stashed Trophies" label will be shown only if you have any trophy in the car;
– Changed Private Hunting Society location;
– Removed blip flashing effect and route if you get close to selling point;
– Added timeout for skinning animation (now if your animal disapeared and character stucked in a middle of skinning animation just wait a few seconds);
1.3
– Disabled blip presistence on minimap;
– Added possibility to disable private hunting society blip on the map in .ini file;