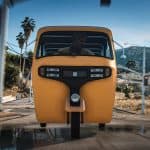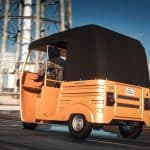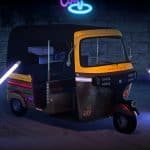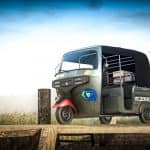 Raji Tunak [Add-On | Template | Liveries] 1.2
---
It's seen itself plastered all over the world for various uses, either it be serving as a taxicab or a simple grocery-getter. Enter a newcomer in San Andreas that might do it good for once, the Raji Tunak – a symbol of what people most commonly associate with the sights of pop-up ads that supply a toll-free number to amend the claim of your computer having malware, the hippies and their shared acid dream of the 1960s, and the sounds of sitars and tambourines that came with both. It has a purpose here: to reduce smog in Los Santos, and carry around more walking blobs who eat too much Cluckin' Bell and corn feed a day.
India's most famous meme mobile just arrived on GTA V in a lore-friendly style, crudely based on AbsolutelyHalal's old sketch.
Raji is a lore-friendly brand based on Bajaj and Tata. As Rockstar is making new brands for other countries, such as RUNE, Vysser and Maxwell, I thought I'd use a fan-made one for a tuk tuk as no Indian brands exist within the game.
Changelog
(1.2) [Current]
-Fixed front wheel behaviour. Guess what, 3-wheelers aren't hardcoded at all.
(1.1)
-Fixed a tiny but bothersome issue with the shifter's UV. Now it's properly mapped.
(1.0)
-Initial release.
Install Instructions
– Put the "sptunak" folder in mods\update\x64\dlcpacks
– Add this line -> dlcpacks:\sptunak\ to the dlclist.xml (mods\update\update.rpf\common\data)
Known bugs
– The player clips through the vehicle's upper bit while entering
Still haven't managed to iron out this one, i need new anims, those aren't possible at the moment unfortunately.
Spawn Name: tunak
Enjoy.