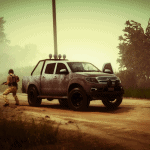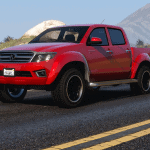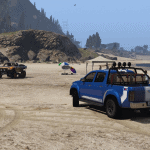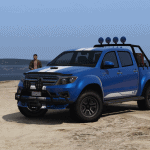 Karin Everon Stock 1.1
---
"The Karin Everon is the latest line of super-reliable trucks from Karin, dating all the way back to the Rebel. This truck can be used for anything, from scaling a volcano, to reaching the magnetic north-pole and obviously stage a coup or for insurgencies, but we don't talk about that. " -Southern San Andreas Super Autos
Changelog
1.1: Small wheel wobble fix. Thanks to gunziness for reporting!
1.0: Initial Release
Description
This is the Karin Everon without the Artic Trucks inspired monster wheels and axles, scaled down fenders and a few US spec additions like the middle break inspired by the Tacoma, even though this is hilux based but who cares, lore friendlyness go brr xD
Spawn name: everonb
Features and bugs
All ingame basic functions (LODs, Glass Shards, Tuning from the original)
Let me know if there are bugs here or on discord. It was beta tested but something can always be missed.
Installation instructions
Basic easy to install DLC format. Add the bravoeveron to the dlc directory and add lines on dlclist. Full pathways in the readme.