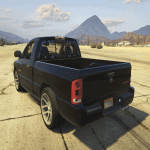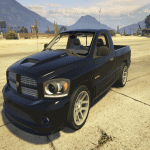 Dodge Ram SRT 10 2006 Stock 1.0
---
I was inspired to make this after i searched forever and couldn't find a stock version.
Not a perfect model this is my first car mod
-windows not breakable
-No dials
-No plates
-no correct vehicle light or indicator light "on" texture
everything else works great
Installation:-
1. Extract yft and ytd files from "Dodge Ram SRT 10 2006.rar" and drop anywhere on your
desktop
2. Open application "OpenIV"
3. Using "OpenIV" navigate to file (x64e.rpf/levels/gta5/vehicles.rpf)
4. Replace (drag and drop yft and ytd files that you extracted into "vehicles.rpf" file
5. Close OpenIV and launch game, spawn vehicle with any vehicle spawner or search for it
in A.I. traffic
P.S you can rename the yft and ytd files to replace any vehicle you like.
Please feel free to edit and re-upload
i would also appreciate if someone added tuning and made it into a add on