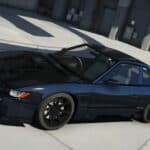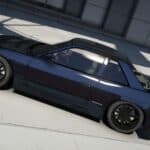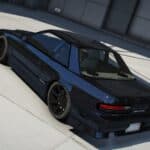 Nissan Silvia S13
---
Body: The car has a slender and aerodynamic body, typical of cars of that time. The S13's silhouette is distinctly sporty, with a low front end, flowing lines and distinctive shapes such as the rising rear end.
Headlights: The S13's headlights are typically round in shape and integrated into the overall design of the front end. There are also angled headlights that add a distinctive look to the car.
Back Section: The rear of the car is highlighted by a raised tail spoiler, which gives it an aggressive and sporty appearance. There are also narrow taillights that highlight the style of the car.