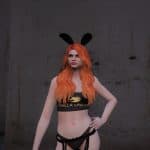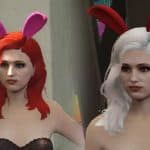 Shellbunny's Bunny Ears [FiveM Ready!] 1.0
---
Hi everyone! This is a quick little custom accessory file for some bunny ears – just plain colours, no textures. They aren't perfect.
These are for both men and women and can be found by default as accessories/chains. They have a 'headband' that is visible with some hairstyles, but thicker custom hairstyles will hide the band.
The file uploaded has them prepped for upload as FiveM files – but just rename the files however you like and replace your chosen slot to install them to Single Player. YDD is the 'mesh' and YTD is the 'texture' – there are 4 textures/colours. I don't personally mod GTA singleplayer – only FiveM, so this part is up to you if you choose to use them for your singleplayer/freemode.
If installing for FiveM how I already have them set up they will replace the following slots:
Women: Chain slots 37 – 40
Men: Chain slots 50 – 53
You can edit the slot they take over or use these as you wish, if you know how. But the defaults I've set are above.
——————————–
FIVEM INSTALLATION METHOD:
Make sure you have a FiveM Argentum patreon subscription or higher
Download the file
Unzip the file
Drag the entire folder into your resource section of your server
Add Start ShelbysBunnyPack to your server config.
Turn on your server.
Done!