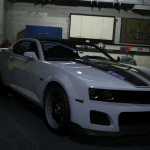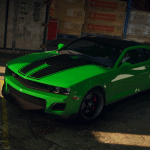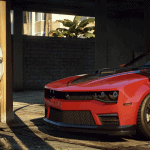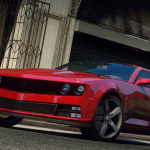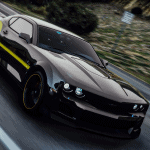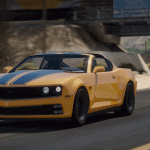 Declasse Vigero VL1/690SS 1.0 Hotfix 2
---
This muscle doesn't dominate the rentals and crash sites. This muscle doesn't run a gauntlet of electrical problems on the way to a 24/7. What this muscle does is rule the road, look damn good while doing it, and keep your butt heated and comfortably seated. No one-night flings, no one-puff fags – your mind is clear and the Vigero's rise from the ashes to the top is even clearer.
Installation:
Add-On:
Add the "spvigeronew" folder to mods/update/x64/dlcpacks
Add this line –> dlcpacks:/spvigeronew/ to the dlclist.xml (mods/update/update.rpf/common/data)
Spawn name: vigeronew
Default Modkit ID: 869
Credits:
MaxBaxman a.k.a. M4K3 – Original model, data work, tuning parts, liveries, glass shards and many more.
13Stewartc – For the initial setup, even if i changed nearly everything, it was his foundation. And for all his help.
RooST4R – For enduring senseless questions and helping to solve many issues.
Northwind_JME – For being a helping hand and enduring noobs.
Eddlm – For his unique handling edits.
deadman23 – For his 2 unique front bumpers.
Voit Turyv – For Tanto spoiler.
Kelda,, Testarossa, GogoDG, daerius, Badboi, ItsJustCurtis, Yannerins, Sir Stir Fry – For liveries.
Skrungus, NastyWiNN3R, (ambient), Dnero, Crower, Marksman, Torqyboi, TY – For screenshots.
MyCrystals – For the description.
SilentSoul21 – For his sketch.
Changelog:
1.0 – Initial release
1.0 Hotfix – Small fixes on livery no.32
1.0 Hotfix 2 – Added missing language specific RPF's, livery template.
Licence
Modifying this package and it's contents (except the handling, meta and modkit), uploading it elsewhere as is or in a changed state, using it on FiveM servers without author's permission is prohibited. Please respect and abide the author's hard work and decisions.
Notes:
With the tuning options, you can make the car look like post-facelift version of Camaro. The car has custom glass shards, a very detailed underbody mapping and engine bay. The pop frequency and number are pre-adjusted to let a plug-and-play inclusion to popgroups.ymt file.
Known Bugs:
With some tuning categories, due to the complexity of tuning parts, reverting to stock may cause missing parts. Unfortunately it's currently unavoidable, alas, so small a problem that you wouldn't notice if you haven't read this part. F.E: Choosing one of the 690SS front bumpers will disable grille tuning to prevent conflicts, grilles are only available with non 690SS front bumpers. Same goes for intakes if you have a blower supercharger hood.
To whom concerned, Mr. Baxman and Mr. Jerkov send their regards, said, they'll not let mere rip-offs to pull the originals down.