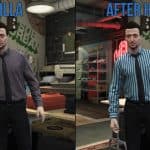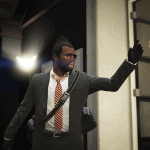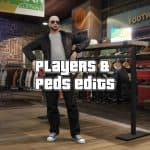 Players & Peds Edits 1.5
---
Information
Pack of clothes mods for Michael, Franklin and the MP characters that i've made.
Franklin:
Beta Haircut.
Michael:
Artwork Heist Mask.
Beta Spec Ops Outfit.
Beta Suit.
Gray Suit Top Fix.
Removed Suit Jacket.
MP Female:
BIGNESS Jackets Retexture.
Canvas Shoes (model and textures).
Executive Assistant Jeans (Textures)
Stop & Frisk Artwork Clothes.
MP Male:
BIGNESS Jackets Retexture.
Canvas Shoes (Textures).
White Rolled Shirt.
Peds:
Pre After Hours update shirt for the "a_m_y_business_02" ped.
Requirements
OpenIV.asi
Mods folder.
Installation
Check the "ReadMe.txt" in the folder of every mod for the installation.

If you don't want to replace the files in they're original locations:
Move the "spplayerspeds" folder in "mods\update\x64\dlcpacks".
Add "dlcpacks:/spplayerspeds/" to the "dlclist.xml".
Follow the instructions of each "ReadMe.txt".

Changelog
v1.5
Updated the dlc pack name and structure.